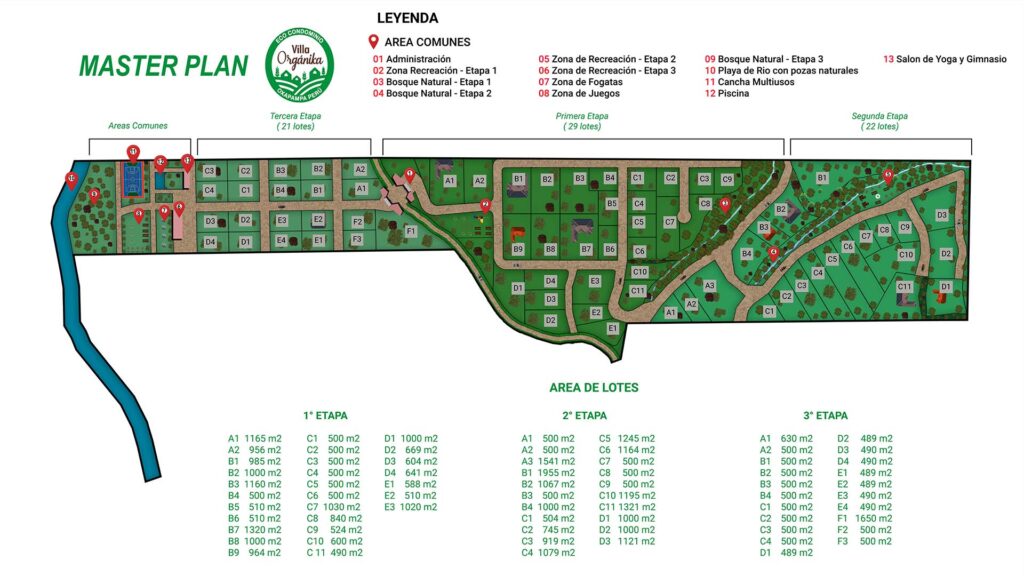 Descargue el brochure del condominio

CLIC AQUÍ
¡Welcome to Villa Orgánika! a Villa Orgánika!
Nuestro equipo de arquitectos, agrónomos y técnicos están desarrollando un proyecto de condominio privado de casas de campo y/o casas huerta, donde cada propietario podrá incorporar una huerta orgánica. Los lotes serán  desde 500, 1000, 1300, 1500, 1800, 2400 metros cuadrados cada uno en promedio. El referido proyecto está localizado en el sector "San Daniel"  a 35 minutos del centro de Oxapampa, departamento de Pasco.

Descargue el brochure del condominio

CLIC AQUÍ
El mismo contará con diversas áreas comunes, tales como canchas deportivas (football, basket, vóley, frontón), comedor comunitario, salida al río (playa), piscinas para niños y adultos, salones de Yoga/Taichi/Shiatzu/meditación, zona de parrillas,  talleres de permacultura y agricultura biodinámica, así como circuitos de bicicletas, chachi karts, entre muchos otros atractivos.
In order to achieve a positive impact on the environment, it is planned to use each resource that nature gives us in order to be able to supply ourselves with the necessary ingredients for life.

La energía de la vivienda será proveída con paneles solares. Respecto al desagüe, se empleará biodigestores y baños secos, el agua proviene de manantial, promoveremos el uso de cocinas a leña y solar.
The mention above will make us completely resilient in front of any power cuts generated by big corporations that operate in the city. This last aspect answers the question:
How do we end up paying for everything in this world that gives us everything for free?
Los precios son de  US$ 75.00 por m2, para mayor información recomendamos contactarnos.
Descargue el brochure del condominio

CLIC AQUÍ
Descargue el brochure del condominio

CLIC AQUÍ